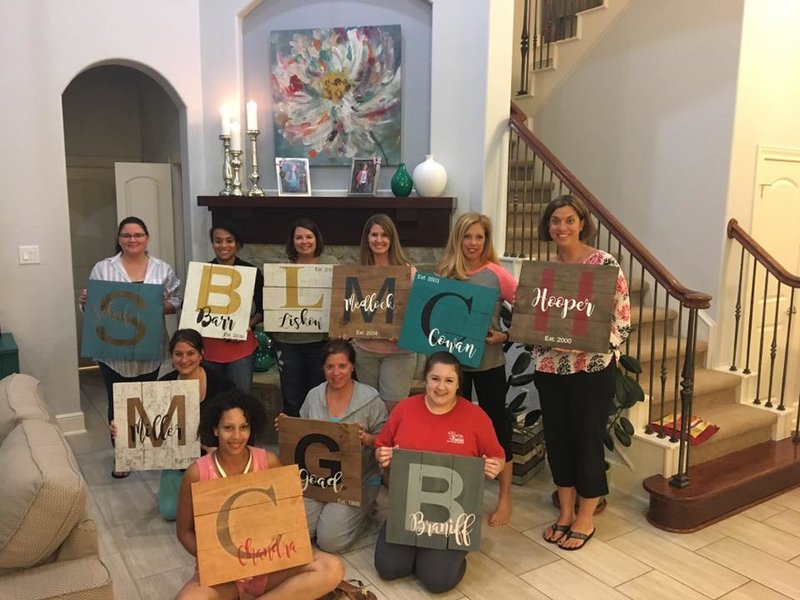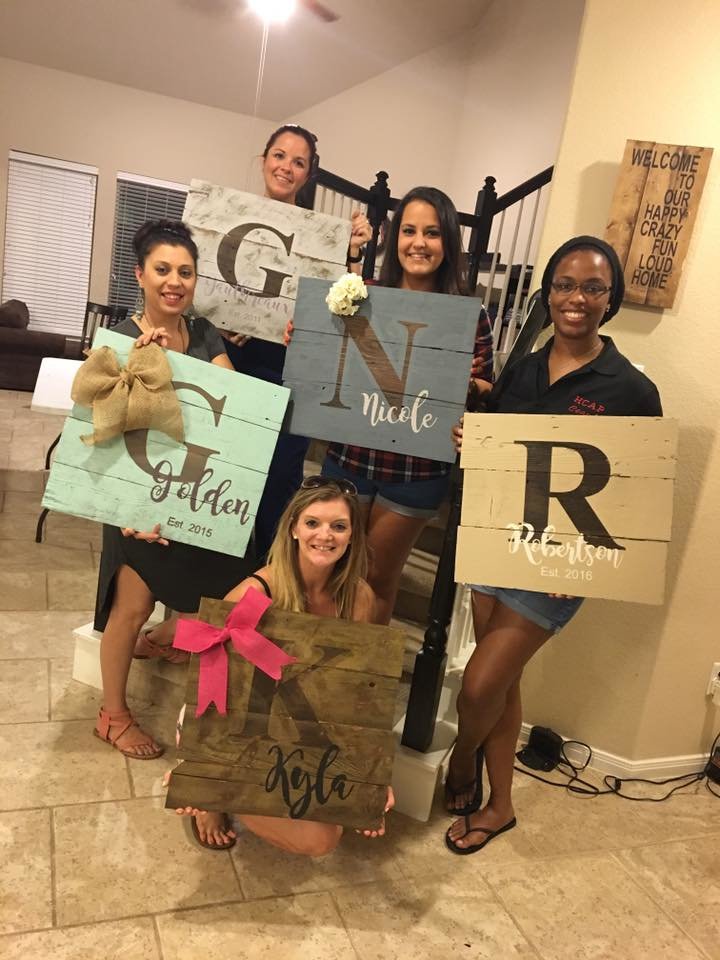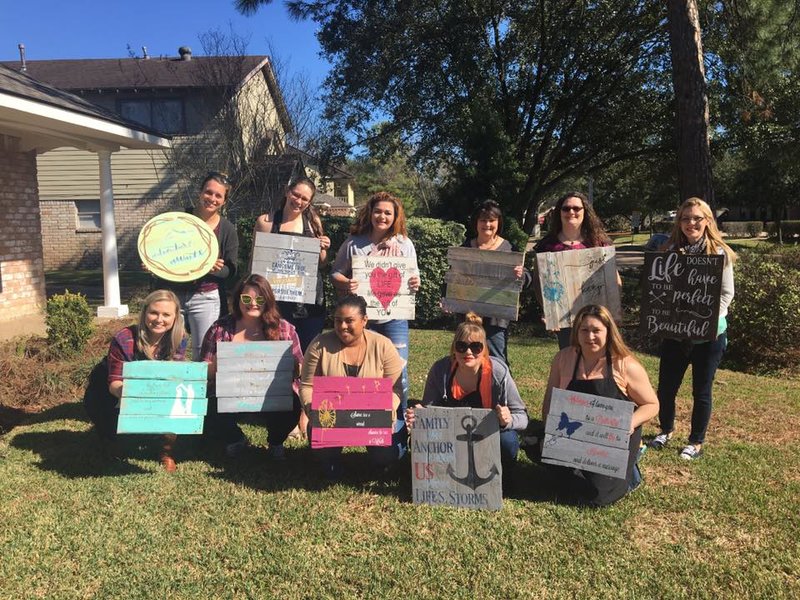 Pallet Paint Parties with From A to Zeke!
I am a DIY pallet party business, specializing in mobile pallet parties. I come to your house with all of the supplies for you and your friends to have a beautiful sign you are proud to hang on your wall.
Are you looking for a great night out with your friends? Do you have a blank spot on your wall you need to fill? Or do you need a custom gift that will be treasured for years to come. You can host a private DIY party at your home, with your friends, and everyone will go home with a beautiful piece that is customized to their choosing.
This is great for girl's night out, couples parties, team building, birthday celebrations, kid parties, church activities, or bridal celebrations.
All supplies will be provided to finish your pallet piece. I have many paint choices and stain colors to choose from. (You are more than welcome to bring any additional decorative pieces of your choice to add to your finished pallet)

Parties last about 3hrs
To reserve your party date a deposit of $40 is required to hold your spot. If for some reason that date ends up not working out you can transfer it to another date with 1 week prior notice of the party date. Deposit will be forfeited without proper notice or rescheduling. If your party is less than 10 I reserve the right to reschedule, or move it to my house.
Once your deposit has been paid I will contact you within 48 hours on party specifics with the information you provide.
Kid party prices start at $20 per pallet with a min. of 8 kids. Adult party prices start at $40 per pallet with a minimum of 10 ladies or 10 pallets. (Additional upcharge for size, customization, hardware or decorative touches).
Hostess Rewards are also available.
**TO REGISTER FOR A PALLET PARTY PLEASE GO TO SHOP FOLDER AND CLICK DIY PALLET PARTIES
Q – What is a Pallet Party?
A- I started Pallet Parties as a way to get all of my neighbors together and with that it has grown into something pretty amazing. Each party is organized by the host for each group. Each guest will decide ahead of time and pay for their design. At the party I will help you with your color choices and walk you through each step so you go home with something you are proud to hang on your wall.

Q – How many people can we have at a party?
A – I ask for a min of 10 ladies.

Q – Where are the parties held?
A – Parties are hosted either at your house or my house.

Q – How much does it cost?
A . This depends on the size and style you choose at check out.

Q – Is this only for adults?
A – No. I have smaller signs for kids that are 8X10 for $20. They can choose from a design I already have done or I can work with you on something personal.

Q – Are there any benefits for the hostess?
A –For Parties with at least 10 guests, you will receive a $40 credit towards the design of your choice. This is a "Thank You" for helping me follow up and get everyone's orders in at a decent time.

Q – How do we book a date?
A-In order to book a party, you will be required to pay a deposit will be refunded the night of the party if you receive 10 guests or 10 signs in attendance. If you do not meet the min I reserve the right to cancel the party or move it to a date that better suits your party guests. If you do not get the 10 guests then your deposit will go toward the price of your pallet and you will not get a refund. I also reserve the right to either reschedule the party to a date that may get more attendance OR move the party to my house.

Q- What if I do not like the way my sign turned out?
A- I do everything in my power to fix anything that you do not like. I have not had anyone go home mad with something they made. With that being said if you are not happy with your sign you are more than welcome to attend an open workshop I host at my house and pay for the recut of the stencil to try again.

Q – How do we choose which pallet to make?
A – You can choose any design in my gallery or you can check out our Facebook business page www.facebook.com/fromatozeke to see how others have turned out.

Q – How do we make our selection?
A – You will need to pre-order your selection by purchasing it on our website. Please pay close attention to the details in the listing for what you will need to include in your order, as many signs are customized with names or dates.

Q – What sizes and styles are available?
A - I have 10 different options for you to choose from. Signature Plank style is 14x16, 18x20 & 22x24. I have the Statement Plank style which is 10x24 & 10x36. I have the Statement Solid which is 10x24 & 10x36. I have a Solid Wood Designs, Round Design and a Serving Style. Our last is the Reversible Door sign which is 4 feet tall (you can get is taller if you request)

Q – What if we don't like any of the options?
A – If you want to create something that you don't see on the website. You can send me a message and let me know what you are looking for. I would love to help you create a custom sign. You can look around Pinterest and other sites to see if you find anything you like. Please know that I may not be able to duplicate the exact font or design due to copyright issues and licenses.

Q – Why do we have to preorder?
A – Every stencil is made to order and most of them are custom. I must have enough time to print the stencils for the whole party before you arrive. This is very important to ensure that your party is a success! This is part of the host' responsibility to make sure that all orders are in and to keep in contact with me through out the whole process.

Q – What is the deadline to order?
A – The deadline is 72 hours prior to your party or there will be a $10 late fee.

Q – What if I already ordered but can't make the party? Can I get a refund on my sign?
A – I am sorry but there are no refunds for Pallet Paint Parties. I can make arrangements to make your sign for you or you can come to an open workshop I host at a later date.

Q- What do I need to wear?
A- I have aprons for everyone, but please remember that we are using PAINT and that means it could get on you, most of the time it does come out in the wash but I use a variety of supplies and I can't guarantee that it will wash out. Please dress accordingly.

Q – Can we have food and drinks to your Open Workshops?
A – Of course! You are more than welcome to bring any snacks or drinks. If you are bringing alcohol please make sure everyone is 21 and that you bring your own glasses or cups.

Still have questions?
Please email Stefani at stefani.gordon@fromatozeke.com or contact me at 770-312-2701